One CIO I spoke with recently declared, "I'll keep finding automations 'til I die"… the guy is eagerly looking at the many break points and dysfunctions across his company, generally excited at the impact of speeding up repetitive tasks and delighting teams that can focus on higher value work.  He's literally hopping from one project to the next, intent on driving significant improvements to his business.  He is a fairly typical example of what happens when you insert smart technically-minded leaders into these automation programs in a market where the rush to modernize systems and processes has never been more determined.
The pandemic has acted as a catalyst for many business models and their enabling technologies
Covid either accelerated the demise of business models that were dying in any case, or it created opportunities that would have eventually opened up but would have taken several years to materialize.  One of those enabling technologies that have sprung into life, due to the pandemic-induced secular changes, is the array of automation tools… from RPA and task-mining to intelligent chatbots, to API-driven workflow platforms, to process mining and digital twinning, to computer vision and machine learning solutions.  We're even seeing the emergence of geospatial technologies to analyze spatial data and create visual representations that are critical for the metaverse.
Our new study of 511 automation decision-makers (stay tuned for imminent release) reveals that the pandemic held back two-thirds of enterprise automation efforts, but over 70% are now experiencing a strong bounce-back with C-Suite sponsorship.  In short, debilitating labor shortages and wage inflation, combined with desperate moves to modernize digital infrastructures has firmly propelled a refreshed approach to automation back into the corporate spotlight: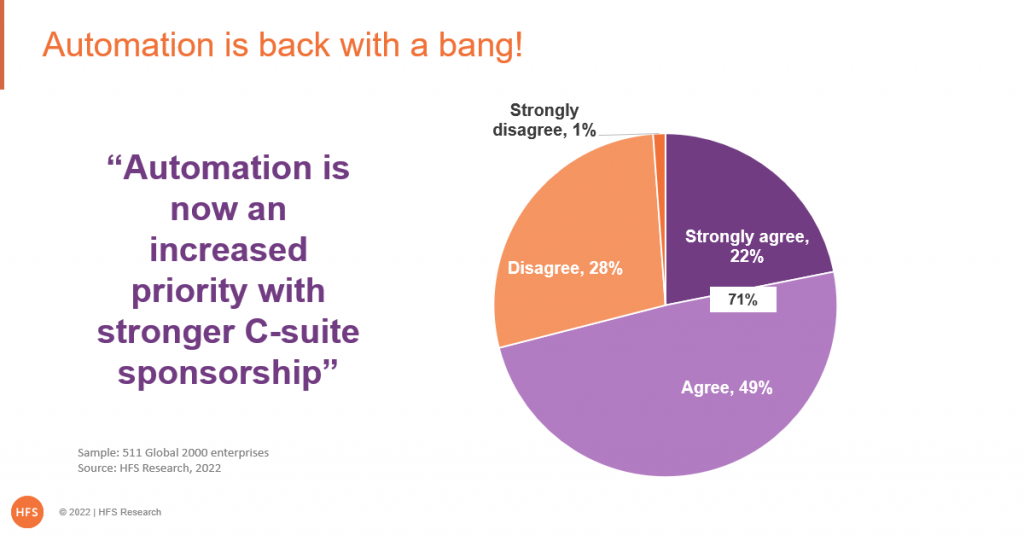 The implications of the pandemic on automation have been two-fold:
1. Non-essential automation has been put on the backburner
For many organizations, the pandemic halted every nonessential activity while crisis management went into full swing to ensure the survival of the company.  And our research pre-pandemic showed very clearly that the vast majority of automations were being trialed on low-risk back office tasks.  The onus for automation back then was to drive out cost from the business, and most organizations were only beginning to figure out that solutions such as RPA rarely resulted in headcount reduction – it, most often, simply freed up time for people to spend on less routine, soul-crushing activities.  You rarely can automate someone's entire job, usually, just some cycles that could be taken over by attended automation scripts.
2. Automation has become a key discipline where it has immediate business impact
For example, for banks that had to "pause" millions of student loan payments, automation became a lifeline to get them moving again. For other entities, such as healthcare organizations that had to implement track and trace metrics in days or weeks, the automation teams were at the ready and immediately went to work.  Or pet-care facilities that became overwhelmed with customer demand during the pandemic and rolled out intelligent chatbots to keep their customer service wheels on.  In addition, how does a consumer products firm take data from legacy supply chain systems into an Amazon environment that is essential to keep it in business? It's not the sort of thing you can solve overnight, but smart RPA connectors, combined with relevant APIs, have been commercially transformational for many organizations making the rapid shift to fully digital business ecosystems.
The Bottom-line:  The changing business environment has completely flipped the business needs and mindsets toward automation
You literally can't operate seamlessly in the virtual economy if you don't have the tools to link the old with the new, and automation tools must be part of the toolbox to make immediate impact with the suppliers and customers which provide the lifeblood for survival in a world where supply chains are falling apart at the seams, customer needs are right-now, and stitching together processes from the front to the back office is the only way to function in these increasingly hyperconnected ecosystems. These things would just not have been possible just a few years ago.
Welcome to a whole new era of automation, folks… where immediate purpose is driving everything forward.
Posted in : Artificial Intelligence, Automation, Metaverse, OneEcosystem, OneOffice, Process Mining, Robotic Process Automation