We've talked a lot about the shift to the full-on digital workplace, and now we're in this "phygital" purgatory where we're trying to find the right balance between the delights and convenience of digital with the real-world excitement and empathy of engaging with real people in real physical settings again.
Publicis Sapient is driving this new era of physical/digital experiences for major enterprises
This is driving a dire need for partners who can really address this balance right across our customer lifecycles.  And when we look at the changing needs of enterprises to engage their customers with experiences that will create new business opportunities for them, create new data assets, or disrupt stagnating business models from the pre-Covid era, we are seeing some digital consulting firms taking this head-on with innovative skillsets to help them.
One firm that is putting customer experience (CX) at the heart of transforming businesses is Publicis Sapient, the digital transformation hub of communication giant Publicis Groupe.  The company really is unique in this world of designing and executing blended digital/physical experiences, so let's dig into this some more…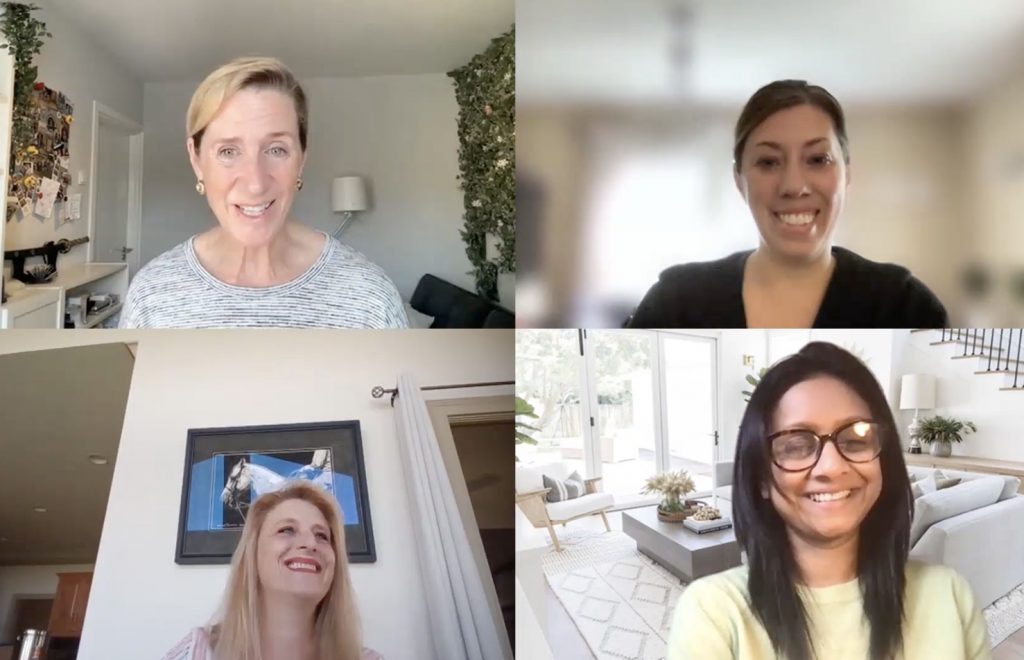 Enter the new CXO… the Chief Experience Officer
HFS Research Leader, Melissa O'Brien (pictured top right) got time with Publicis Sapient's new Chief Experience Officer, Abby Godee (pictured top left), who joined recently from Deloitte Digital where she led the firm's Customer Strategy, Design and Innovation team… Over to you, Melissa:
As we hurtle toward our new OneEcosystem reality, experience is king.  As such, many companies are taking a call to put one person in charge of all things experience. Enter the CXO.  I met my first CXO at a Genesys event in 2011 and was thrilled to hear about how these custodians of experience were cultivating experiences across enterprise stakeholders.  But back then the world was a lot different and more …. well, physical.  Now as we grapple with this new "phygital" reality, creating experiences that blend remote and bricks and mortar seamlessly, where people are eager for real connection yet weary of endless Zoom calls are so important.  Now we need real leadership that understands human needs and wants and aims to develop experiences, digital and physical ones, on a very human level.
There's no time like the present to create and invest in roles like this, now when we are more in need of genuine engagement and strong leadership, and we have found that diversity of all kinds is critical to success.  Abby Godee (see profile), 3 months in at Publicis Sapient and bringing a tremendous background of experience design, shed some real light on what it means to be a CXO in 2022, and her vision for enabling experiences for Publicis Sapient's employees, customers, and the greater community.
Melissa O'Brien, Research Leader, HFS: Abby, the CXO role is still relatively a new one but is rapidly maturing.  What is a CXO?  Can you tell us what it entails, and the vision Publicis Sapient has for you?
Abbye Godee, Chief Experience Officer, Publicis Sapient:  It depends on the maturity of the organization, Melissa. Publicis Sapient has been in the experience business for many years, it gives me the opportunity for my role to be more expansive.  At Publicis Sapient my role is about strengthening and scaling the impact of experience.  There are traditional design capabilities like UX, product design, and other core capabilities, but we also have strong design strategy and CX strategy.  So it dovetails into transformation strategy on one end of the spectrum and on tech execution and platform execution on the other end. My role is to guide the impact experience can have.  We are ensuring our approach to technology is not just best in class but informed by human needs.  I see my role as being the custodian of the human in experiences.  I don't think we design experiences; we design the opportunity for people to have great experiences.  It's up to us to deeply understand our employees, our partners, the patients, the citizens and so forth, so we can design ways for them to have the right experiences.  You have to embrace skills way beyond core design skills to enable that.
Melissa: Can you share some of your background with us, Abby, and what do you consider to be your greatest influence?
Abby: My educational background is in cultural anthropology and that has always informed my approach. I studied design and was art minor, and can design my share of products, but what's always driven me is "why do people do what we do?" So there's a lot of overlap with behavioral design.  I worked at Smart Design where we were busy designing products like OXO kitchen products, which were designed to be really good with people with arthritis and manual dexterity issues.  Those kind of early experiences have informed the way I approach my roles.
No matter how complex technology makes our world you have to do the basics- what are the jobs to be done, things people do to feel fulfilled and happy, to build trust… keeping human at the heart of it.   Moving beyond kitchen products into advanced technology seems complex.  But our needs haven't got that much more complex, we still have the same basic human needs – you have to be grounded in that.  Understand the complexity but bring it back to what people need to be successful is what has been my greatest influence.
Melissa: So what enticed you to Publicis Sapient?
Abby: I joined Publicis Sapient because of its focus on Digital Business Transformation and helping clients build both the capabilities and ways of working to continually identify and realize value at pace with the changes around them. In my conversations with CEO Nigel Vaz I heard the laser-sharp experience focus.  He said that we are not trying to be everything to everyone, we are about digital business transformation.  He talked to me about "SPEED" (Strategy, Product, Experience, Engineering and Data & AI) capabilities that allow us to partner with our clients from strategy through to execution for an end-to-end transformation.  While Publicis Sapient has always had the depth and breadth of experience, Nigel asked me to work across these capabilities, connect dots between strategy and engineering and data- to collaborate across these areas. It was a ripe opportunity to unlock the secret of multidisciplinary transformation.  Publicis Sapient is sincere about the interplay and building trust and common ways of working.
Melissa: Speaking of that, how are you working with other leaders to align outcomes so far? 
Abby: Going well but of course it's still the early days.  In past roles I've had to explain why Experience needs to be there, why it needs to be part of the solution.  Here I don't have to explain that or bang at the door to come in – the doors are open and the seats are all at the table.  We are working collaboratively across all of our SPEED capabilities to ensure we seamlessly integrate them and help drive value for our clients.  It's an orchestration mindset which sounds a bit utopian but simply put, its about aligning a common taxonomy, building trust between teams and figuring out "what good looks like."
I think of it like this: Over the recent years I've become a fanatical rower— when you start rowing with a team you notice every motion you make, if you're all not in sync you stall the boat and take away from the momentum and progress.  This has been the perennial challenge of experience, technology and strategy for many years, and now we're in a position to change it. We are learning how to row in sync.
Melissa: What's exciting in the CX space right now? 
Abby: CX has a huge opportunity for tech as an enabler, I am seeing some great things to revolutionize call centers and meet customer demands.  We are at a moment in time where cost has come down and tech has advanced to a place where we can now create an amazing experience while saving companies money.  There are some areas that are advancing faster out of necessity- for example, in healthcare and some other regulated spaces like pensions. An example of that is seen in advances that are happening in some countries where they are moving to direct contribution pension schemes and away from defined benefit schemes. This regulatory shift means that it's more critical than ever to help people navigate their financial future. That's where you can easily see the impact Experience can have…when people's lives are changing so dramatically.
Melissa: What's your vision for Publicis Sapient and beyond, Abby?
Abby: We are getting more aligned as a global team, Melissa.  We are getting more integrated with our industry-focused teams to bring clients the depth of the industry expertise and the breadth of our SPEED capabilities.   The teams in each of the regions and countries are strong, I'm amazed at the quality of the folks we have.  But we need to get more standardization to work more effectively together for the scale that is required to meet client demand.  I am looking for amazing talent, and more diverse talent.  It's part of my commitment that our team, from top to bottom, reflects the diversity of our clients' customers -the same mix of gender, race, socioeconomic status and so forth.  It's important to make us a mirror of the people we are designing for.
There are a few industries where we have been doing great work but still know we have more to give– topics that fit that ambition include creating empowering citizen experiences, helping companies navigate their decarbonization agendas as well as the future of mobility, to name just a few.
Melissa: Your talent comments are spot on, what are the critical skills and how do you cultivate the culture to retain them?
Abby: We have a healthy, open culture which makes it easier. You've got to have people with a growth mindset and I'm looking for people with an interest in embracing and developing a more consultative approach to experience.  They're interested in engaging and solving the problems with clients, and we need more of those people.  We are also looking for professionals who have a thirst and hunger to know more about where data and AI are going, and also embrace an understanding of platform technologies.  But also new alternative business models that are enabled by different experiences, people who can go deep in crafts but are hybrid in the ability to tune into the context of the world are working in.
Melissa: Going back to that big picture vision, what are the key elements of focus to bring that to life for your clients?
Abby: I'd like to see us applying our skills even more to things like citizen experience, energy transition and future mobility, to name a few. This hearkens back to recruitment and retention, Melissa – these things are purposeful to our experience team, and if we are providing work that is meaningful and filled with purpose our people will want to stay with us to grow and build their careers.  We have three things that we will be scaling over the coming years: 1. Experience that drives innovation and the development of new businesses for our clients 2. End to end product and service design and development and 3. Designing better experiences for people as part of enterprise transformation which includes employee experience, sales and service and commercial, and potentially back office. If the experience in an enterprise doesn't match the experience offered to customers, there's a true imbalance that hurts the customer experience.
Melissa: Thanks so much, Abby for sharing your vision with us.  I love how you've said that while you can't determine an experience, you can encourage certain outcomes like loyalty or other value.  And also, how holistically you look at experience is very in line with the way we view our OneOffice Ecosystem coming together.  This is just the tip of the iceberg of how we need to align outcomes across stakeholders and really think about the impacts on our communities.
Abby:  Thanks Melissa – it's been great spending time with you today!
Posted in : Customer Experience, Customer-Engagement, Design Thinking, Digital Transformation