In what can be termed as the biggest deal in the emerging design and prototyping market, Adobe announced on September 15 that it will buy Figma for $20 billion. Adobe, which has a market capitalization of $144.67 billion as of that date, will complete the deal in half cash and half stock. Read on for our analysis of what this means for these players and the segment.  
Did we see this coming?
With the adoption of design and prototyping tools in software development picking up immensely post-pandemic, we anticipated mergers and acquisitions in this space. But seeing a design pioneer acquire the game changer in the design space was unexpected.
Adobe was one of the first movers to identify the design space demand and build products such as Photoshop, Illustrator, and XD for designers, helping them gain significant market share. The pandemic changed the needs, demand patterns, and design stakeholders' ways of work. Adobe could not keep up with this change which led to a slowdown in its growth. Figma – a relatively late entrant in the design space – came in as a game changer and emerged as a major competitor for Adobe.
This acquisition reminds us of Meta's acquisition of WhatsApp in 2014, which enabled Meta to cement its unshakable dominant presence in the instant messaging space by acquiring its biggest competitor.
Figma's growth story
Figma's rise to the top has been nothing short of marvelous. This rocket ship launched in 2012 and had its public release in September 2016. Fast forward six years, Figma will now join forces with another major player in this space – Adobe.
Analyzing the details reveals the following three strengths that led to Figma's rise:
Leadership – Figma's leadership understood design and designers' associated pain points. They had a vision for making design accessible to all.
Addressing evolving customer needs – To make design collaborative, Figma created all the functionalities needed to build an interface design and packed it into a browser-based user interface. Designers now could be based anywhere and work on the same project.
Freemium model – Figma's core functionalities remained free to use, attracting thousands of early adopters to the platform. Good feedback coupled with Figma's user-centricity ensured a sharp rise in users.
Why we think Figma is the missing piece of the puzzle for Adobe
This acquisition offers several areas for synergy that can propel the combined entity's growth in the design space.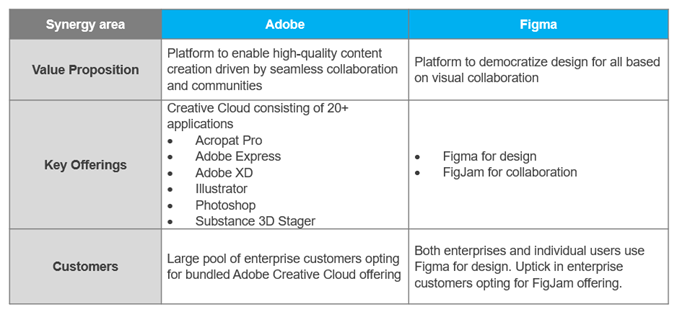 What's in this for Adobe
The deal will provide the following benefits for Adobe:
Access to Figma's customer base: Figma has seen immense growth in its user base in the last two years with roughly 4 million users at present, including tech majors such as Github, Dropbox, and Twitter. Adobe can leverage these connections to augment the growth of its other offerings
Expansion of designer and developer community: Adobe has built a very strong designer community over the years to strengthen the design knowledge base to facilitate peer learning. The addition of Figma's designer and developer community will further boost the collaborative mindset for design advancements
Access to innovative pool of talent: Figma as a brand has revolutionized the ways of working for all stakeholders in the design process. Adobe can collaborate with the innovative minds behind this revolution to take its design portfolio to the next level
Coverage of end-to-end functionality in design lifecycle: Figma's special focus on the brainstorming and whiteboarding phase of the design lifecycle with the launch of FigJam will add to Adobe's capabilities to address product ideation activities. Figma's offerings will augment Adobe's design capabilities as well
Implications for the design and prototyping market
Competing design tool vendors – This acquisition puts Adobe and Figma at the front of the pack. They can now boast functionalities spanning across the entire value chain along with a significant user base and customer list. What this means for competitors is that they will have to rely on strong differentiation propositions to create a niche for themselves. We anticipate that the competitors will focus on small and medium enterprises to drive differentiation.
Enterprises – In their quest to standardize and scale design processes across all product teams, enterprises tend to opt for tools that offer end-to-end design lifecycle functionality. This acquisition seems to be in the right direction as enterprises will now have a one-stop design solution.
Service providers – This move will unquestionably facilitate creating the largest base of designers operating in the Adobe plus Figma ecosystem. Demand for these skill sets will only go up from here. We anticipate service providers will ramp up their designer arsenal inorganically and step up on their partnership with Adobe plus Figma to offer design services for enterprises.
Things to look out for
While Dylan Field, CEO and co-founder of Figma, has stressed that Adobe is deeply committed to keeping Figma operating autonomously, seeing how the integration shapes up will be interesting. Adobe can take lessons from Microsoft's acquisition of GitHub which shows that large technology companies can successfully acquire smaller players but still retain the core value proposition.
In line with this, we will also watch for potential changes in the following areas:
Product strategies: Adobe has similar offerings such as Adobe XD that overlap with Figma in many aspects. They will need to make alterations and updates in their value proposition and go-to-market approach to avoid cannibalization.
Commercial model: The freemium model is one of the prime contributors to Figma's large user base but the Adobe suite has limited freemium models. We will look for any commercial model changes that may result from having the two under the same umbrella.
As the market evolves, competitors will need to make strong moves to create spaces for themselves. Adobe's acquisition of Figma may set the stage for additional mergers and acquisitions to pay attention to.
Stay tuned for our updates on this fast-growing space of design and prototyping tools. To share your thoughts, please contact Swati Ganesh, [email protected], and Ankit Nath, [email protected].